Having children affects every aspect of your life, especially your physique. Even though most women are aware of these inevitable changes before their pregnancy, it can still be surprising to see them developing in their bodies.
While some women consider these transformations to be a badge of honor and proof that they have given birth, other women decide they would be happier without the physical evidence displayed on their abdomens.
The childbearing process affects nearly every area of your body from your breasts to your thighs, but the area most affected is the abdomen.
What Happens to Your Abdomen When You Are Pregnant?
Over a 40-week timeframe, the abdominal area stretches an unimaginable amount to accommodate your growing baby.
While some women's midsections can bounce back after this process, most women are not this lucky. The result is excess skin, excess fat, separated abdominal muscles, stretch marks, and unwanted C-section scars.
What Is Diastasis Recti?
Your abdominal muscles are separated into two sections (a right side and a left side). These two abdominal muscles are usually spaced one finger's width apart.
During pregnancy, the abdomen expands due to increased hormone production and a growing uterus that protects and nourishes your baby.
Before you get pregnant, your uterus is roughly the size of a pear. Over the following nine months, it will grow to nearly five times that size.
This increase pushes the abdomen out, stretching the muscles and the skin that covers them. The pressure of this can cause the muscles to separate or tear.
This condition is known as diastasis recti, and it affects nearly 60 percent of postpartum women.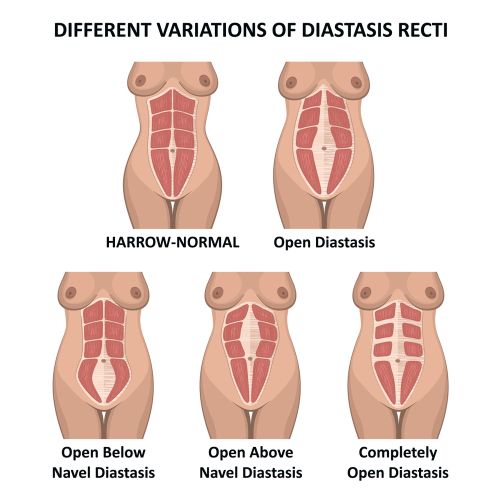 While the likelihood of diastasis recti is lessened when a woman starts her pregnancy with strong and toned core muscles, there is no way to prevent this situation from occurring. It can develop with any woman at any time.
If diastasis recti occurs, the abdomen will not shrink back to its pre-pregnancy form. Instead, women are left with a lower stomach pooch that consists of loose skin and the separated muscles.
No diet or exercise program can tighten this pooch because excess fat is not the cause. Surgical treatment is the only option.
What Can Be Done for the Abdomen?
A lax midsection can be corrected with a Mommy Makeover. This surgical makeover combines a series of cosmetic procedures that address the areas of the body that are affected by the childbearing process.
A Mommy Makeover is for women who have worked hard to lose their baby weight but are struggling with loose skin, separated abdominal muscles, and stubborn pockets of fat.
When addressing the midsection in a Mommy Makeover, a tummy tuck is typically combined with liposuction.
Liposuction can remove localized pockets of fat in the lower abdomen, upper abdomen, waist, hips, buttocks, and back.
Tummy tuck surgery will then surgically tighten and restore the abdominal muscles and trim away stretched or loose skin on the lower abdomen.
It is recommended that women wait for their Mommy Makeover until they are finished having children.
Does a Mommy Makeover Remove Stretch Marks?
Stretch marks can develop anywhere on the body that experiences a rapid increase in volume. These are common during pregnancy.
While removing stretch marks is not the main focus of a Mommy Makeover, some may be removed on the lower abdomen if they are located on the area of skin that is trimmed away.
Can a Mommy Makeover Lessen a C-Section Scar?
Having a cesarean section during childbirth is an unexpected but sometimes necessary part of the childbearing process for many women.
Women who undergo a C-section are left with a horizontal scar across their lower abdomen. As scar aesthetics are not a primary focus for your doctor during a C-section, the scar is often more significant than it needs to be.
The C-section incision can be used during a tummy tuck. Since plastic surgeons are more aware and concerned about the appearance of the resulting scar, they can often smooth the scar tissue and lessen the visibility of the said scar.
While there is no way to eliminate a scar after a surgical procedure, it will be easier to hide beneath underwear and bathing suits.
To Find Out More
If you would like to learn more about the Mommy Makeover package or to find a Mommy Makeover near you, contact Mr. Mockler at Panama City Plastic Surgery by calling (850) 769-7270 or by filling out our online contact form.